Details

February 5, 2020
8:00-9:30AM
Phoenix Networking Breakfast at a Recently Converted Facility - Feb. 2020
3401 W Greenway Rd, PHX 85053
You are registered! See you tomorrow at 8:30. If you want to bring someone along, use the Register Here button below.
Let's change it up a bit!
Ready for a Phoenix Networking Breakfast at a recently converted facility? Check out the photos below of the facility where we'll have our next Networking Breakfast on Feb. 5, 2020. It used to be a K-Mart and was converted to self-storage by Wentworth Property Company, now under third party management by CubeSmart. Come check out the finished project, tour the facility, and join the industry discussion about topics of interest to you as self-storage professionals in the Phoenix area.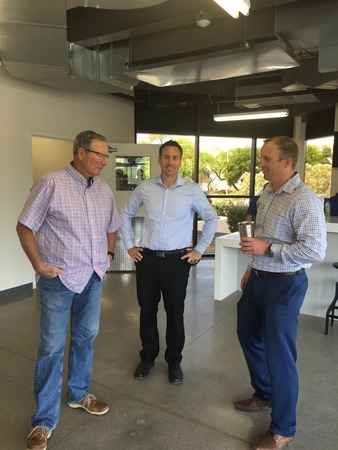 AZSA Board Members Chris Rudel, Jeff Gorden, and David Brown
At a facility converted by Wentworth Property Company in 2017


| | | |
| --- | --- | --- |
| Who: | | Anyone involved or interested in self-storage |
| What: | | Networking event onsite at a recently converted facility |
| When: | | Wednesday, Feb 5, 2020, 8:30-10 a.m. |
| Where: | | 3401 W Greenway Rd, PHX 85053 |
| RSVP: | | Anne Mari DeCoster, azsa@azselfstorage.org, 602-374-7184 |
Thank you to our hosts:


2020-02-05 08:00:00
2020-02-05 09:30:00
America/Detroit
Phoenix Networking Breakfast at a Recently Converted Facility - Feb. 2020
You are registered! See you tomorrow at 8:30. If you want to bring someone along, use the Register Here button below.    Let's change it up a bit!  Ready for a Phoenix Networking Breakfast at a recently converted facility? Check out the photos below of the facility where we'll have our next Networking Breakfast on Feb. 5, 2020. It used to be a K-Mart and was converted to self-storage by Wentworth Property Company, now under third party management by CubeSmart. Come check out the finished project, tour the facility, and join the industry discussion about topics of interest to you as self-storage professionals in the Phoenix area. Register Here AZSA Board Members Chris Rudel, Jeff Gorden, and David Brown At a facility converted by Wentworth Property Company in 2017  Who:   Anyone involved or interested in self-storage What:   Networking event onsite at a recently converted facility When:   Wednesday, Feb 5, 2020, 8:30-10 a.m. Where:   3401 W Greenway Rd, PHX 85053 RSVP:   Anne Mari DeCoster, azsa@azselfstorage.org, 602-374-7184    Thank you to our hosts:         Before   During   After  
3401 W Greenway Rd, PHX 85053
---