19th Annual Arizona Self-Storage Conference
Over 300 Owners and Operators,
along with 50 Exhibiting Sponsors,
will gather on Sept. 27 & 28 for the largest self-storage event in the state.
This is our industry: self-storage, the real estate sector with the highest profit and lowest foreclosure rate, darling of Wall Street because its phenomenal ROI, low cost of construction and operations, and growing demand among US consumers.

This is our community

: one of the fastest growing counties in the US, in the state with the highest entrepreneurial start ups, among the leaders in the nation for job creation.
Come be a part of this event!
On-Site Pricing Now in Effect
AZSA Owner/Operators & Managers: $215

Non-AZSA Owner/Operators: $265
AZSA Member Vendors, sorry Exhibiting Sponsorships sold out but you can still attend: $775
Non AZSA Member Vendors: attend for $1100, including 1 year membership in AZSA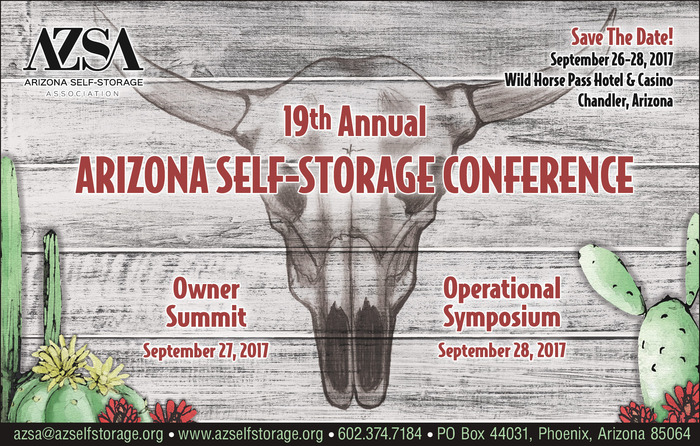 50 Sponsor Exhibits available all day, both days

Call 1-800-WIN-GILA and mention the Arizona Self-Storage Association to reserve your

hotel room

. The discounted room rate of $119 expired Sept. 7 but ask for it anyway and see if they'll extend it to you

Hotel address: 5040 Wild Horse Pass Blvd, Chandler AZ 85226
Owners Summit

September 27, 2017

The most relevant issues in the self-storage industry: What to expect from Google, the Great Data Debate, the real estate & development cycle, and much more, including a fabulous keynote speaker, details below.

Operational Symposium

September 28, 2017

The Managers Track is back, with a full day of sales & customer service training, from reeling them in when they call, to sealing the deal and keeping them happy as customers so they keep coming back - scroll down for details on speakers and topics.
Owners Summit, September 27


AZSA and
The BSC Group

are proud to present the 2nd Annual Owners Summit on the first day of the Arizona Self-Storage Conference, hosted by

Shawn Hill

. A market leader in debt and equity financing and loan workout services, The BSC Group specializes in the self-storage industry. Shawn Hill's expertise and influence is evident in the program offered in this year's Owners Summit (Shawn Hill The BSC Group Bio).
Keynote Speaker Steve Cortes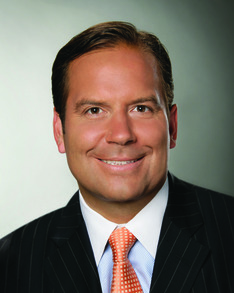 Investment advisor; frequent speaker on investment strategy, global financial trends, and market performance; and author of Against the Herd, 6 Contrarian Investment Strategies You Should Follow, Steve will discuss "The Economy Under Donald Trump". No matter where you are on the political spectrum, over the past decade you have heard Steve Cortes comment on financial and investment strategy on daily TV news, from CNBC's "Fast Money" to Fox News. He will focus on:
Why Trump won..what he did right...and wrong
Why the media so blatantly missed this incredible electoral shift
What the Trump Presidency means for the economy
The risks and opportunities this new era represents for business owners

Google's Self-Storage Expert

Rachel Seidman, Google Account Executive and resident self-storage expert, will share what's ahead for Google - what to expect, how to react, and what it means for your business.
Rachel has been with Google for 7 years, focusing specifically on the storage and moving industries. She is passionate about helping business owners identify innovative ways to utilize technology to grow their business and customer acquisition pipeline.
Read more about Rachel here: Bio-Rachel Seidman Google


Data: Compare, Contrast, Evaluate Self-Storage Data Providers
For the first time ever, the industry's four leading data providers will be gathered together so you can assess which source best aids your decisions on acquisitions, sales, development, marketing, and operations.
Barbara Dehnam

Senior Economist

REIS

Elizabeth Winkle

Chief Strategy Officer

STR

Cory Sylvester

Principal

Union Realtime

Bret Zinn

Regional Sales Executive

Yardi Matrix

In individual micro sessions, each company will present data and predictions including the impact of:
New supply
Transactional velocity
Asset pricing
Demographics
Economic trends
Industrial factors

Financial realities
The Great Data Debate will culminate in a panel designed to compare and contrast each company's approach, their data and analytical tools, with the twofold objective of helping you determine which tools will best help achieve your business goals - as well as strengthen the industry by providing the reliable data Wall Street now demands of our market. For more on our speakers: Data Speaker Bios
Lunch with a Legend: Mike Burnam

The CEO of StorageMart joins us for a conversation about how this multi-generational family business became the world's largest privately owned storage company.
Mike Burnam is one of the original movers and shakers in our industry. His company, StorageMart, entered the storage business in 1974. In 2015, Mike followed in his father's footsteps and was inducted into the Self-Storage Hall of Fame. Mike promotes our industry internationally, including service on the national boards of the Self Storage Association and the Canadian Self Storage Association. Today, he is responsible for acquisitions, risk management, and capital investments at StorageMart.
In conversation with AZSA Vice President Dave King, Vice President Self Storage at Wentworth Property Company, Mike will share thoughts about how his company approaches today's decisions on acquisitions and development, what StorageMart is doing to continue its remarkable growth path in a sector dominated by REITS in the largest markets, how to gather "critical mass" and "play monopoly" in markets not targeted by the REITs.
Learn more about Mike: Mike Burnam Bio
Business Climate
Providing further clarity on the business environment is Triadvocates,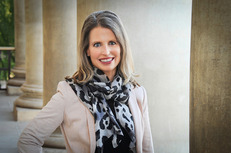 AZSA's long-time ally in the legislature.
Ranked as the #1 lobbying firm by the Phoenix Business Journal for the last 8 years, Triadvocates has represented our industry for nearly 2 decades.
Lobbyists Barbara Meaney and Lourdes Pena will also discuss how Arizona led the nation in self-storage legal reform, creating a model for the rest of the country to follow in modernizing lien laws and other statutes regulating our industry - offering lessons learned for business owners in other states still trying to accomplish what AZSA achieved eight years ago.
See background information on Barbara and Lourdes here: Barbara Meaney Lourdes Pena Bio
Real Estate & Development Cycle

Ben Vestal, President of the Argus Self Storage Sales Network, and expert on the self-storage sector, will discuss the real estate and development cycle and its impact on owners and investors.
What is creating the development wave?
Changing real estate taxes and their impact on value
How valuation is changing and what steps to consider to protect your assets
Opportunities to consider in today's self-storage investment market
Avoiding common mistakes and pitfalls in site selection and valuation
With 20 years of experience in management, development, construction, and brokerage of commercial real estate, including over $1 Billion in self-storage sales transactions, Ben offers invaluable insight on new strategies and opportunities to invest and position your self-storage assets for success as the real estate cycle continues to change.
Check out Ben's bio here: Ben Vestal Bio
Operational Symposium, September 28
Sales & Customer Service in Top Producing Self-Storage Facilities
Today's self-storage industry demands well-equipped managers who embrace a comprehensive approach to leadership and management. Using AZSA's tried and true model from years past, our Managers Track features the complete sales and customer service program of
Paul & Dawn Schween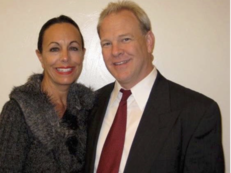 Edutainers for over 15 years experience with corporate, government and educational audiences around the country, around the world, Dawn has been inspiring professionals to reach for more while Paul has gained a reputation as a "Sales Satirist," working with prolific sales trainers such as Tom Hopkins, Wally "Famous Amos," and Jim Rohn.
This enjoyable training, guaranteed to boost you right out of your seat, will deliver the skills you need to move your sales and customer service to the next level.
Plus take away products: The Schweens will send you home with their eBook, "What Separates Top Producers from Averages Producers," and a CD on Handling Objections.
Paul and Dawn toured the state last year with their workshop, Serve More to Sell More. It was so well received that we are bringing them back for more. This fast-paced, vibrant track will focus on skill development, confidence, management, and leadership, with topics including:
Sales:
First impressions - the do's and don'ts
Qualifying questions - where all the answers are found
Probing - get to the client's story
Presentations - separating yourself from the competition
Managing objections - techniques to manage the 3 most annoying objections in the industry
Managing excuses - if it's not about the price, it's an excuse
Closing - professional persistence
Phone finesse - how to reel 'em in to your store
Customer service:
Dealing with aliens - working with different personalities effectively
Managing difficult customers - how to manage & diffuse conflicts
From Knowing...to Growing! Q&A with Operational Experts
After the Schweens' training, we'll bring some of your favorite Regional and Area Managers to the stage as a panel of experts to answer your operational and legal questions. Panelists so far include:
Andy Beeckman, District Manager, Stadium Properties, operating Dollar Self Storage
Don Favreau, Area Manager, Life Storage

Diane Gibson

, President, Cox's Armored Mini Storage Management

Jorge Saca

, Vice President Operations, Westport Properties Inc / US Storage Centers

Richard Marmor

, Chair of AZSA's Legal & Legislative Committee


Thank you to our Sponsors!
| | | |
| --- | --- | --- |
| Title Sponsor | | Promotional Sponsor |
Major Sponsors:
Golf Title Sponsor