Details

November 8, 2022
Reminder Tomorrow! Tucson Happy Hour/Workshop Tuesday, 11/8/22 | 6-8pm
Top Golf Tucson - 4050 W Costco Dr, Tucson, AZ 85741
REMINDER TOMORROW!
November AZSA Workshop and Happy Hour
Top Golf in Tucson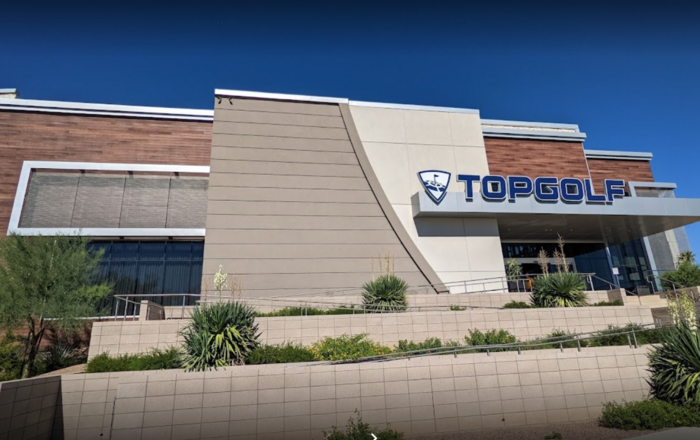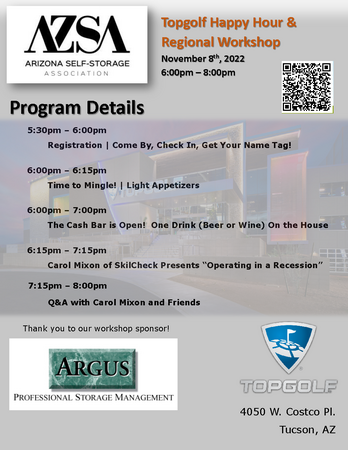 It's been a while. We missed you, Tucson!
| | | |
| --- | --- | --- |
| Who: | | All AZSA Members |
| What: | | Tucson Happy Hour Workshop |
| When: | | Tuesday, 11/8/2022 - 6pm - 8pm |
| Where: | | Top Golf Tucson, 4050 W Costco Dr, Tucson, AZ 85741 |
| Why: | | To Engage and Educate |
| Contact: | | |
Interested in sponsoring this event?
About the Speakers:

Carol Mixon-Krendl is the owner of SkilCheck Services, Inc., a mystery shopping, development, sales training, auditing and self-storage consulting firm. Starting out in the industry in 1984 with National Self Storage, then one largest self-storage operations in the country, Carol developed the curriculum for the first training school in the industry, used with over 200 self-storage managers. She has written 12 industry related manuals, including an Operation and Policy Manual sold by the Self Storage Association, and over 100 articles for the Mini-Storage Messenger, Self-Storage Journal, Inside Self-Storage, Insider SSAA, AZSA's Behind Closed Doors, Units and Directions magazines. Carol has traveled around the world speaking and educating people in the self-storage industry. She has developed and managed over 200 properties in 9 states. Carol serves on the AZSA Board and has been on the board of the SSA and CSSA.
Sponsor Info:
https://www.proselfstorage.com
Add to Calendar
aCLuDhaqizCaPxAftmqF167204
11/08/2022
11/08/2022
true
America/Phoenix
Reminder Tomorrow! Tucson Happy Hour/Workshop Tuesday, 11/8/22 | 6-8pm
  REMINDER TOMORROW! November AZSA Workshop and Happy Hour Top Golf in Tucson       Register Here!         It's been a while. We missed you, Tucson!             Who:       All AZSA Members What:   Tucson Happy Hour Workshop When:   Tuesday, 11/8/2022 - 6pm - 8pm Where:   Top Golf Tucson, 4050 W Costco Dr, Tucson, AZ 85741 Why:   To Engage and Educate Contact:   Amy Amideo, azsa@azselfstorage.org, 602-374-7184   Interested in sponsoring this event?  Sponsorship is available. Contact us at azsa@azselfstorage.org     About the Speakers: Carol Mixon-Krendl is the owner of SkilCheck Services, Inc., a mystery shopping, development, sales training, auditing and self-storage consulting firm. Starting out in the industry in 1984 with National Self Storage, then one largest self-storage operations in the country, Carol developed the curriculum for the first training school in the industry, used with over 200 self-storage managers. She has written 12 industry related manuals, including an Operation and Policy Manual sold by the Self Storage Association, and over 100 articles for the Mini-Storage Messenger, Self-Storage Journal, Inside Self-Storage, Insider SSAA, AZSA's Behind Closed Doors, Units and Directions magazines. Carol has traveled around the world speaking and educating people in the self-storage industry. She has developed and managed over 200 properties in 9 states. Carol serves on the AZSA Board and has been on the board of the SSA and CSSA.   Sponsor Info: https://www.proselfstorage.com  
Top Golf Tucson - 4050 W Costco Dr, Tucson, AZ 85741
---