Details

November 9, 2023
10:00AM - 11:00AM
Reminder - This Thursday! AZSA Webinar - ADA Made Easy! 4 Simple Tips for Preventing ADA Lawsuits - Thursday, November 9, 2023 10 am - 11am (AZ Time)
Webinar - Please join us online
Reminder - This Thursday!
AZSA Webinar - ADA Made Easy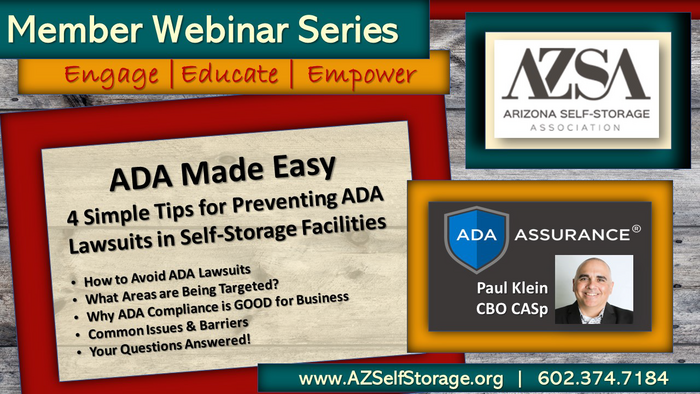 Hosted by Carol Mixon and Paul Klein, ADA Assurance
| | | |
| --- | --- | --- |
| Who: | | All Self-Storage Professionals |
| What: | | AZSA Webinar |
| When: | | November 9, 2023 10am - 11am |
| Where: | | Your computer |
| Why: | | To help you stay educated and informed |
| Contact: | | |
Thank you
SkilCheck

For Producing
This Webinar for AZSA

Modern Storage Messenger

For Co-Hosting
This Webinar with AZSA
About the Host: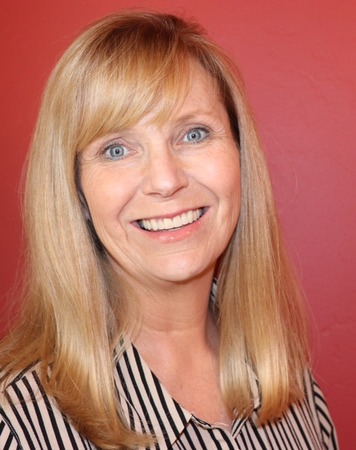 Carol Mixon owns SkilCheck Services, Inc., a mystery shopping, development, sales training, auditing and self-storage consulting firm. Starting out in the industry in 1984 with National Self Storage, then one largest self-storage operations in the country, Carol developed the curriculum for the first training school in the industry, used with over 200 self-storage managers. She has written 12 industry related manuals, including an Operation and Policy Manual sold by the Self Storage Association, and over 100 articles for the Mini-Storage Messenger, Self-Storage Journal, Inside Self-Storage, Insider SSAA, AZSA's Behind Closed Doors, Units and Directions magazines. Carol has traveled around the world speaking and educating people in the self-storage industry. She has developed and managed over 200 properties in 9 states. Carol serves on the AZSA Board and has been on the board of the SSA and CSSA.
Website - SkilCheck Services, Inc.
About the vendor:
Paul Klein is an accessibility specialist, entrepreneur, and Co-Founder of BlueDAG LLC. From his days as a 1980s hair band guitarist🎸 and lifelong entrepreneur to consulting for some of the biggest brands, including Target, Neiman Marcus, Starbucks, Holiday Inn, and others, Paul helps public agencies, business owners, and other professionals increase their knowledge and understanding of federal and state accessibility regulations.
Website - https://www.adaassurance.net/
Add to Calendar
aCLuDhaqizCaPxAftmqF167204
11/09/2023 10:00 AM
11/09/2023 11:00 AM
false
Reminder - This Thursday! AZSA Webinar - ADA Made Easy! 4 Simple Tips for Preventing ADA Lawsuits - Thursday, November 9, 2023 10 am - 11am (AZ Time)
    Reminder - This Thursday! AZSA Webinar - ADA Made Easy       Hosted by Carol Mixon and Paul Klein, ADA Assurance Register Here!         Who:       All Self-Storage Professionals What:   AZSA Webinar  When:   November 9, 2023 10am - 11am Where:   Your computer Why:   To help you stay educated and informed Contact:   Amy Amideo, azsa@azselfstorage.org, 602-374-7184   Thank you SkilCheck For ProducingThis Webinar for AZSA   Modern Storage Messenger For Co-HostingThis Webinar with AZSA     About the Host: Carol Mixon owns SkilCheck Services, Inc., a mystery shopping, development, sales training, auditing and self-storage consulting firm. Starting out in the industry in 1984 with National Self Storage, then one largest self-storage operations in the country, Carol developed the curriculum for the first training school in the industry, used with over 200 self-storage managers. She has written 12 industry related manuals, including an Operation and Policy Manual sold by the Self Storage Association, and over 100 articles for the Mini-Storage Messenger, Self-Storage Journal, Inside Self-Storage, Insider SSAA, AZSA's Behind Closed Doors, Units and Directions magazines. Carol has traveled around the world speaking and educating people in the self-storage industry. She has developed and managed over 200 properties in 9 states. Carol serves on the AZSA Board and has been on the board of the SSA and CSSA. Website - SkilCheck Services, Inc.   About the vendor:   Paul Klein is an accessibility specialist, entrepreneur, and Co-Founder of BlueDAG LLC. From his days as a 1980s hair band guitarist🎸 and lifelong entrepreneur to consulting for some of the biggest brands, including Target, Neiman Marcus, Starbucks, Holiday Inn, and others, Paul helps public agencies, business owners, and other professionals increase their knowledge and understanding of federal and state accessibility regulations. Website - https://www.adaassurance.net/    
Webinar - Please join us online
---