Complete Story

01/04/2018
Severely Wounded Veteran & Charity Storage Lead the Way to Help Others
By Anne Mari DeCoster
AZSA Executive Director
"Life breaks everyone at some point," says Sherman Gillums, Jr., Veteran of the US Marine Corps, Public Servant, and Keynote Speaker of the Operational Symposium in AZSA's 20th Annual Arizona Self-Storage Conference, September 26-27, 2018.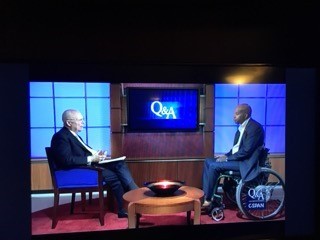 "Whether it's cancer, loss of a loved one, disaster, illness, or injury, we're all bound by the moment — the duty — to draw upon our inner strength in those circumstances." Chief Warrant Officer Sherman Gillums, Jr. was an active duty Marine for 12 years and most recently served as Executive Director of Paralyzed Veterans of America (Sherman Gillums Jr Bio).
His inspiring message will challenge your view of the world, your circumstances, and those around you who could use your help. He demonstrates by example how ordinary citizens and companies can help wounded Veterans recover, reintegrate, and reclaim their identities.
In past years, AZSA members have been generous participants in our annual charity focus, a Silent Auction during our conference and trade show. But this year we are expanding our charitable effort into a year-long campaign, to be kicked off at the Disabled American Veterans Hall, where we will hold the Yuma Regional Workshop on January 23 (Yuma details here).
Don't worry if you can't make it to Yuma, because we'll continue the campaign on February 6 at the Phoenix Regional Workshop, when Charity Storage will be on hand to help us translate Sherman's challenge into action. Charity Storage will show you how to dedicate storage units to charities that benefit wounded Veterans, fill them with items worth bidding on, and auction them off to benefit the cause. We envision this culminating in a statewide series of charity auctions next November in celebration of Veterans Day. You might need some practice to work out the kinks, so please don't wait to get started. Charity Storage can help you right now. Reach them at www.charitystorage.org, or come meet them in person at AZSA's February 6 Phoenix Regional Workshop (Phoenix details here).
Bias for Compassion
"People still have a bias for compassion," says Sherman Gillums, Jr. "Whenever I deployed overseas or transferred to a new duty station, many people helped me, including some who worked in this business. I had to put everything in storage. Whether it was a self-storage company or a company that packed and stored everything for me, they were all critical to my success as I transitioned."
Four months after the September 11, 2001, attacks, as he prepared to deploy to Afghanistan with the 1st Marine Division, he sustained a cervical spine injury that ended his military career. His circumstances changed, and his need for help increased exponentially. People responded.
"Whenever I'd look someone in his or her eyes and asked for help, every man and woman I ever reached out to stopped and helped. I've never felt overlooked," says Sherman.
Hearing Sherman Gillums, Jr. share his entire story is a real opportunity. Please save the date for his Keynote at the Operational Symposium in the 20th Annual Arizona Self-Storage Conference, September 27, 2018.
---